Securely sell 100% of your Parts and Accessories online.
Grow Retail and Wholesale sales with a friendly, graphical website.
Generate profitable, accurate online orders with SimplePart.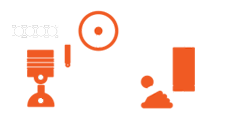 VIEW PRICING
CONTACT US
SimplePart for Licensed OE Dealerships
Trust SimplePart to generate high-return online orders for your Parts and Accessories. Leverage the web to build Retail volume sales and streamline processing of Wholesale orders. We offer industry-leading bundled features that maximize order profitability - including DMS integration, integrated secure online payments and a menu of traffic generation features that bring qualified customers to your website.
We host your website entirely on your URL, and give you complete catalog and page-metadata control - as well as deep linking support. Our websites use the latest in Responsive Design to ensure Tablet and Mobile format support, without sacrificing design, search engine crawl or usability. Order processing is just as easy with integrated payment processing and industry leading fraud prevention technology.
Intuitive
Complex product catalogs are presented simply and intuitively
Customers can research, shop and order in fewer clicks
Integrated graphical Browse and Plain English Search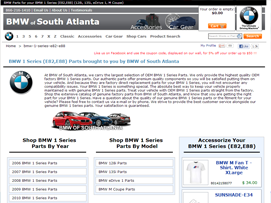 Cost Effective
Maximum order accuracy and low rate of return maximize profit
Built-in fraud protection features reduce risk
Cost-effective tools included to attract new customers with SEO, Social Media and Deep Linking
Comprehensive
Offer 100% of your Parts and Accessories including images, fitment, vin-specific detail, installation instructions, exploded-view parts diagrams and detailed notes.
Up-to-date product data and pricing
Our network of OE customers includes licensed dealerships selling the following brands of parts:
BMW, MINI, Volvo, Mercedes Benz, Acura, Honda, Mazda, Ford, Lincoln, Mercury, Chevrolet, Buick, Cadillac, GMC, Hummer, Oldsmobile, Pontiac, Saturn, Saab, Toyota, Scion, Hyundai, Kia, Ducati, Isuzu, Porsche, Volkswagen, Audi, Aprilia, Moto Guzzi, Chrysler, Dodge, Jeep and Lexus.
Managed Search Engine Optimization (SEO).

Spend less per visitor by engaging SimplePart to provide managed SEO. We optimize for local, regional and specific target terms, and build out dedicated landing pages that get you prominent placement in search engine results.

Managed Online Marketing.

Maximize return for your Online Advertising spend by letting SimplePart handle your online marketing. Our experienced Online Marketing team will build and run online marketing campaigns to make your website stand out, and bring in profitable orders. Every penny spent on advertising can be tracked by Partner and by Customer, straight through to the purchase. Increase profit-per-sale by spending less for your traffic.

Integrated Customer Reviews.

Get real results by doing reviews right. Let SimplePart integrate your website with the leading online review providers, so that your customers can review their experience with you - and use those reviews to boost your visibility in search results and paid placements.

Managed Social Media.

Leverage Social Media to connect with customers, generate direct sales and improve placement in search results. Let SimplePart's team of Social Media experts help you promote products, engage customers and execute on strategies that generate real returns.

Advanced Design and Promotion.

SimplePart's Digital Design and Marketing teams are there for you to ensure your website stays fresh and crisp, and that your digital marketing materials really pop. Just let us know how we can help.

Special Programs for Dealership Groups.

If your group is interested in bringing many stores to SimplePart at once, we can offer discounted rates. SimplePart can also help you present products from many brands on a single website, including rules-driven order routing and multi-user Control Panel functionality.
Please contact us for more information on the additional benefits SimplePart can provide.